Port Fairy Working Sheepdog Trials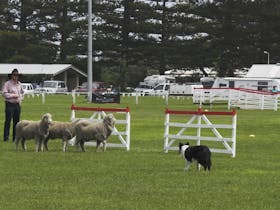 The Port Fairy Working Sheepdog Trials will be held on the third Sunday in January from 7:00am. The Commonwealth Championship Sheepdog Trials run for a week with triallers travelling from most states of Australia to compete in one of the biggest trials held in Australia. Novice, open and improver heats are held throughout the week with finals on the weekend. A Trans Tasman trial is held under lights for three nights of the trial. Included in the trial is the coveted Australian Dog of the Year title with the best dog in each state attending by invitation to compete. Held in the historic Port Fairy tourist town on the Shipwreck Coast of Victoria. Morning tea, lunch, afternoon tea available at a very reasonable cost.
When: 03/02/2019 - 03/02/2019
Location: Hamilton Road, Port Fairy, Victoria, Australia
Email: vic@moyne.vic.gov.au
Phone: (03) 5568 5251
Website: www.showgrounds.port-fairy.com
contact
Hearn's Port Fairy Accommodation offer's over 130+ holiday home accommodation rentals across Port Fairy.
NEWSLETTER
If you would like to be kept aware about promotions & specials, subscribe to our newsletter. We won't spam you.