Lighthouse Open Day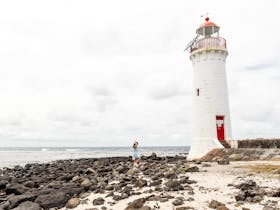 Lighthouse up your life at Port Fairy. Since 1859, the Griffiths Island Lighthouse has faithfully guided ships into the security of historic Port Fairy will be open for your viewing Saturday and Sunday 10:00am to 4:00pm. To get there, park at the Martins Point carpark, walk across the causeway to Griffiths Island and take the very scenic ten minute walk to the lighthouse.
When: 29/09/2018 - 29/09/2018
Location: 1 Gipps Street, Port Fairy, Victoria, Australia
Email: billmoore@aequus.biz
Phone: () 0407 681 117
contact
Hearn's Port Fairy Accommodation offer's over 130+ holiday home accommodation rentals across Port Fairy.
NEWSLETTER
If you would like to be kept aware about promotions & specials, subscribe to our newsletter. We won't spam you.